Coeur D Alene Vinyl Signs
Vinyl is the most common material used for signage, no matter what industry you are in. With custom vinyl signage by your Coeur D Alene vinyl signs company, Screen Tek, Inc, you can be confident you are getting eye-catching, compelling signs and graphics that work for you!
Vinyl can be used for all sorts of applications, and they last for a long period of time. You can also get them in various styles, finishes, and colors to match your intended marketing goal. There is even vinyl that can be used in high-traffic areas.
Considering its variety and flexibility, it can be hard to pick which is the right vinyl material to use for signs to match certain business goals and images. Fortunately, we here at Screen Tek, Inc can help you choose and design the right vinyl sign for your business needs. Our team can also recommend how these vinyl signs can be used if you are not sure what products to use to achieve your business goals.
Call Screen Tek, Inc at (509) 213-0262 for your Free Consultation!
Promotional Vinyl Banners
Vinyl banners are the most popular form of vinyl used for businesses. They come in many sizes, colors, specifications, and options, depending on how you want it to be displayed. Vinyl banners are very durable and show clear images and information even if they are used in high-traffic areas. It is also the ideal vinyl product to use for events, business promotions, and announcing specials.
Wherever you use these banners, our team can deliver the perfect vinyl banner for your business needs. We will design it based on your specifications and include all the accessories needed to install it in the right location.
Window Vinyl Clings & Film
Vinyl can also be used on top of glass and windows to provide more marketing space to businesses, as well as provide additional privacy for patrons and stores.
To make it stick to surfaces, vinyl clings can have either a static-cling adhesion backing or held down by sticky glue. This ensures that people can replace their displays regularly, especially if they are only renting the space.
When it comes to window films, they are either done with frosted or etched designs to provide privacy. It is also used to give the impression that the window was designed that way without having to buy a new window in the process.
Privacy film is outstanding for not only adding professionalism to your front business windows, it is also a great choice for providing privacy for your patrons within.
Cut Vinyl Lettering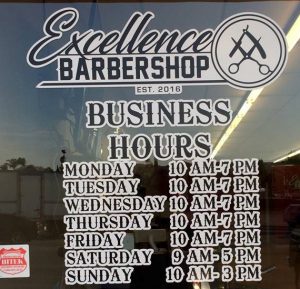 If you are on a budget and wish to show your business' professionalism, you can use vinyl lettering.
Vinyl lettering can show your business' key information that people should know, such as opening hours, your business name, and contact details. They do not take a lot of space and can help you promote your business easily.
Vinyl lettering can be applied to any surface, including walls, floors, doors, windows, vehicles, and more. Our experts utilize your fonts and colors to create highly visible, branded messages.
Wall Murals & Floor Graphics
Nowadays, every surface in business establishments can be an area where a business can market their brand, products, and services. This is the reason why wall murals and floor graphics are now becoming popular. These graphics can be installed on any surface, maximizing marketing, and also helping people find their way around.
Wall murals are often eye-catching and improve the look of plain walls and hallways with the vision and mission of the company or other message the company wants to share with people. Our team can help you pick the right location for your wall murals, what it should look like, and make sure it is installed correctly to get the right people to notice it.
Meanwhile, floor graphics are used to guide people around the facility. They can also be used to display important messages that companies wish to share, especially in trade shows and other similar events.
We use durable vinyl to make sure that these graphics don't fade even if they are stepped on constantly by people. Our long-lasting vinyl products can be perfectly customized to your intended use and space.
Vinyl Graphics Options
Vinyl can be used for all sorts of business ideas and promotions. Thanks to its variety and options, it can be hard to pick the best one for your needs. However, if you do reach out to our Coeur D Alene vinyl signage professionals, we will make the choice easier for you.
We will take into account what you need, recommend the best vinyl products that can support it, and show the sample, so you know why it is the best choice for your request.
Popular uses for vinyl graphics include:
We can also do customized signs and graphics, depending on what you need. Even if you do not know what kind of material you want us to use for your graphics, just speak with us, and we will sort out everything for you.
Vinyl Graphic Shop
When you reach out to the Coeur D Alene, ID vinyl sign experts here at Screen Tek, Inc, we do everything in-house. We can provide a free consultation where we analyze your project, what the graphics must be like, and how it should be delivered through the vinyl product. If you have no idea about the right vinyl product to use for your business needs, we can help you pick the right one for your needs and explain to you why it is the best choice. We can also work with the current brand standards for your industry if you want us to design from scratch.
When you approve of our designs, we will do everything in rapid succession. We will print the graphics in the right vinyl product that will help with your business goals and cut it into the right dimensions. We will double-check everything to make sure that it is perfect before our on-site installers can proceed in installing the graphic in your chosen location.
When we install your graphics, we will ensure that it is free from imperfections and damage. If you wish to install the sign yourself, we will provide you the right tools and advice to make sure you get the right response from your audience.
Free Vinyl Signs & Graphics Consultation
Screen Tek, Inc is a trusted local provider when it comes to Coeur D Alene vinyl signs, graphics, and banners for personal and business use. No matter where you want to use them, we can design the perfect banner for your business goals. If you have any questions, we can even answer them for you so that you understand what will be the final product before you even see it.
Contact us today to know more about our services and how they can help you reach your goals easily.
Call Screen Tek, Inc at (509) 213-0262 for your Free Consultation with a Vinyl Graphics Specialist!